Annie Oakley: More Than Just a Gun
Special to the Newsletter
by Michael F. Bishop
"I ain't afraid to love a man, but I ain't afraid to shoot him either," declared Annie Oakley, in words that aptly summed up the life of one the most famous American women, who enjoyed a long and happy marriage but was renowned for her almost supernatural abilities with a gun and a rifle.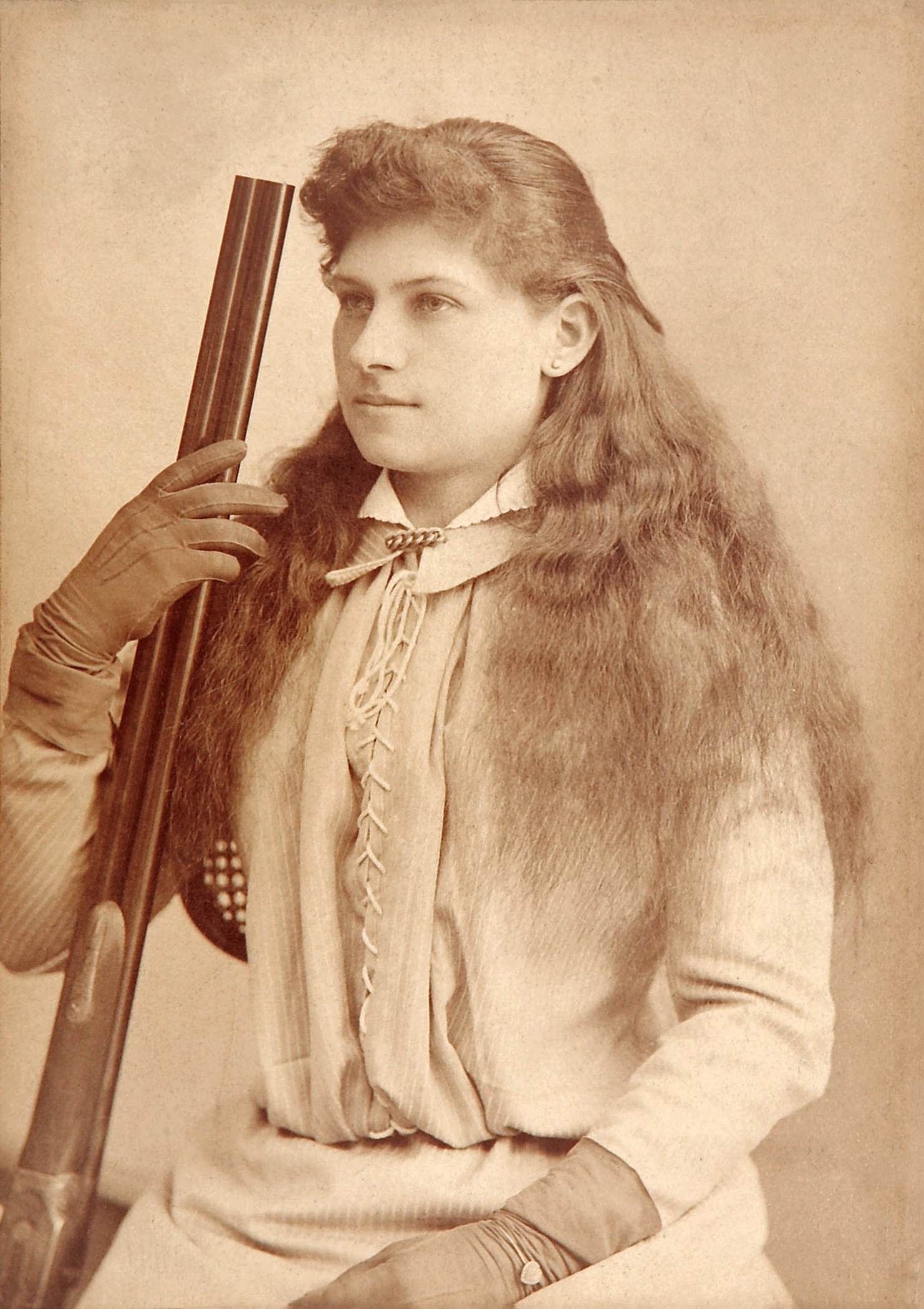 Phoebe Ann Mosey was born in August 1860, less than a year before the United States would plunge into civil war. Like the president who would lead the Union through that great conflict, she was started life in a log cabin deep in the wilderness. She and her eight siblings endured poverty, deprivation, and the loss of their father when Annie was just five.
Three years later, she took up a rifle to help provide for her family, shooting game with uncanny precision. Her skills only improved as the years went by; as a teenager she found herself in a shooting contest in Cincinnati with a famed traveling Irish marksman named Frank Butler. To his great surprise, she beat him. And not long afterward, she married him.
Annie and her husband brought their shooting show on the road, and soon joined the traveling entertainment extravaganza created by William Frederick Cody, better known as "Buffalo Bill". She adopted the stage name of "Annie Oakley" for reasons that remain obscure, and soon shot to fame and fortune. Adoring crowds watched her perform all over the United States, and the crowned heads of Europe thrilled to her exploits. Queen Victoria granted her a personal audience and pronounced her "clever". The girl from rural Ohio had come a long way.
Her skill with firearms was astonishing. She could shoot corks off the top of bottles and hit a coin tossed into the air. Her patient and fearless English setter, Dave, sat patiently as Annie shot apples off his head. But to Annie, the gun was more than just a means of entertainment. It was also a powerful tool for the achievement of equal treatment of the sexes. She chafed at the condescension shown to women in what remained primarily a man's world, complaining, "When a man hits a target, they call him a marksman. When I hit a target, they call it a trick. Never did like that much." She encouraged women to become proficient with a rifle, declaring, "I would like to see every woman know how to handle guns, as naturally as they know how to handle babies."
She also preached the gospel of hard work and determination, deploying marksmanship as a metaphor: "Aim for the high mark and you will hit it. No, not the first time, not the second, and maybe not the third. But keep on aiming and keep on shooting for only practice will make you perfect. Finally, you'll hit the bullseye of success."
Annie became an early film star of sorts, appearing in one of the first "motion pictures" developed by inventor Thomas Edison in 1894. She used her ever-growing fame to advocate for the participation of women in the armed services, urging President William McKinley to authorize her to recruit women sharpshooters to fight in the Spanish-American War. To her chagrin, the offer was declined. As she observed, "God intended women to be outside as well as men, and they do not know what they are missing when they stay cooped up in the house."
Celebrity had its drawbacks. Annie was a victim of an outrageous "fake news" story published by William Randolph Hearst falsely claiming that she had stolen money to support a cocaine habit. An enraged Annie turned not to the gun for justice, but to the courts, winning dozens of libel suits against newspapers that had reprinted the story.
The accident-prone Annie (who had been badly injured in a 1901 train derailment) survived a serious car accident in 1922 but refused to slow down, making the most of her remaining years until her health gave out four years later. She died in her native state of Ohio at age 66, one of the biggest celebrities of the era.
Annie lived on in countless stage and screen portrayals, but none were more famous and successful than Annie Get Your Gun, the 1946 Broadway musical by Irving Berlin that was later adapted for film and television. The brash character depicted in these productions was very different from their softspoken subject, but they served to burnish her already remarkable reputation. Nearly a century after her death, Annie Oakley remains an American icon.
---
Michael F. Bishop, a writer and historian, is the former executive director of the International Churchill Society and the Abraham Lincoln Bicentennial Commission. He is the author of "We Shall Fight: Churchill's Greatest Speech," to be published by HarperCollins.