What is the connection between Bourbon whiskey and the Baptist movement?
November 8th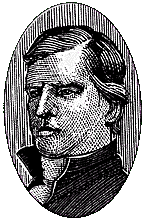 November 8, 1789 — If you love bourbon whiskey, today is a day to celebrate its creation. Believe it or not, the credit goes to a non-drinking Baptist Minister named Elijah Craig.
The resident of Bourbon, Kentucky knew that his town was a wonderful spot for growing corn. And, by using a mash of 50 to 80 percent of the grain, he was able to come with a new taste for whiskey.
But that's not Craig's only claim to fame. Hailing from Orange County, VA, he was ordained and became the pastor of Blue Run Church, located between Barboursville and Liberty Mills.
Craig was jailed at least twice for preaching without the required Virginia license from the Anglican Church, and soon after became politically active as the legislative liaison of the general convention and general association to Virginia's legislature as well as the ratification convention of 1788.
He worked with Patrick Henry and James Madison concerning protections to religious freedom in the federal and the state constitutions. Ultimately, religious freedom became protected in the First Amendment, and Baptist membership grew.
Words of Wisdom
Too much of anything is bad, but too much of good whiskey is barely enough.