Who was the first couple married in the White House today in 1820?
March 9th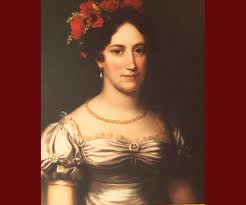 March 9, 1820 — The daughter of the 5th US president, James Monroe, and First Lady Elizabeth Kortright was married in the White House today. Maria Monroe, 17, wed Samuel Lawrence Gouverneur, her first cousin who was one of her father's junior White House secretaries.
The wedding was officiated by Rev. William Hawley, pastor of St. John's Episcopal Church, which was located just across from the White House at the opposite corner of Lafayette Square.
There is some question over exactly which room hosted the marriage ceremony, but White House historians believe it was held in the Elliptical Saloon (known today as the Blue Room), which provided a grand view of the ellipse and the towering Washington Monument.
It was a celebrated event, for only six years before British soldiers had burned the White House to the ground during the War of 1812. As a result, new furniture was ordered for the wedding, much of it designed by Monroe himself.
Having spent time in France, the President hired Pierre-Antoine Bellange, "the finest cabinet maker in Paris," to fill the order. Imported crimson silk, with a 50% surcharge for the color, was used in the design that covered the chairs and draped some of the windows. French lamps lit the dining room, and golden urns overflowed with fresh fruit.
The glittering candlelit reception was attended by 42 close friends and relatives who retired to the State Dining Room for a feast.
Words of Wisdom
A little flattery will support a man through great fatigue.