March 1
March 15
Showing our children that their past
is prelude to their future
When Helen Keller was 19 months old in 1882, she caught a fever that seized her eyesight and snatched her speech.
Five years later, 20-year-old-Annie Sullivan "…arrived at Ivy Green, the Keller family estate…and began working to socialize her wild, stubborn student and teach her by "[using a finger to] spell out words in Keller's hand," according to History.com.  "Keller went on to learn how to read, write and speak.  With Sullivan's assistance, Keller attended Radcliffe College…graduated with honors in [1904"],  morphed into a public speaker, an author, and "even formed a vaudeville act [with Sullivan] to educate the public and earn money. [Sullivan passed away in 1936]  Helen Keller died on June 1, 1968 at 87 leaving her mark on the world by helping to alter perceptions about the disabled."
The Grateful American Book Prize recommends Helen Keller: Lighting the Way for the Blind and Deaf by Carin T. Ford.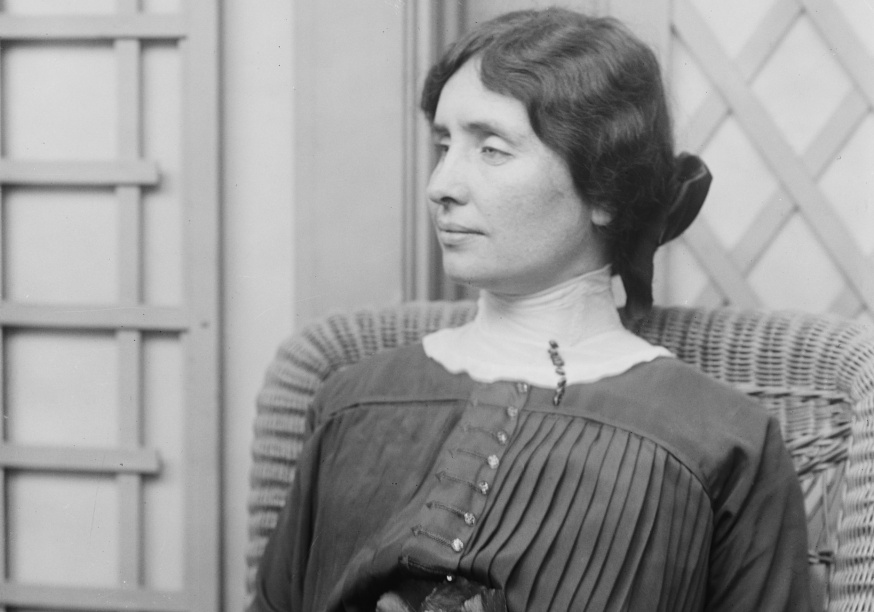 ---
"Scripturient," is a term which refers to people who are ardent correspondents. John Adams married Abigail Smith in 1764, but his peripatetic political career kept the couple apart for long periods, and they emerged into prolific epistlers.
According to History.com, "the remarkable correspondence between Abigail and John Adams—numbering 1,160 letters in total—covered topics ranging from politics and military strategy to household economy and family health.  Their mutual respect and adoration served as evidence that even in an age when women were unable to vote, there were nonetheless marriages in which wives and husbands were true intellectual and emotional equals."
On March 7, 1777– while he was tending to his duties in the Continental Congress in Philadelphia, John wrote three letters to Abigail and he received two from her—postmarked from their home in Braintree, MA.
The Grateful American Book Prize recommends Joseph J. Ellis' First Family: Abigail and John Adams.
---
Brave and dedicated American men and women joined the fight in World War II, but it was not just them who labored to preserve freedom. The War Dogs of the U.S. Army's K-9 Corps—started March 13, 1942– played a major role, too.
"When the country entered World War II in December 1941, the American Kennel Association and a group called Dogs for Defense began a movement to mobilize dog owners to donate healthy and capable animals to the Quartermaster Corps of the U.S. Army. Training began in March 1942, and that fall the QMC was given the task of training dogs for the U.S. Navy, Marines and Coast Guard as well," says History.com.
An estimated 20,000 war dogs helped guard military posts, delivered battlefield messages, abetted the rescue of downed pilots, and led troops through enemy territory.
For more information, the Grateful American Book Prize suggests The Dogs of War: The Courage, Love, and Loyalty of Military Working Dogs by Lisa Rogak
---
History Matters is a biweekly feature courtesy of The Grateful American Book Prize.