David Bruce Smith's Grateful American™ Foundation Launches New Video on Charles Willson Peale Starring Kids
Washington, DC, December 1, 2016 — Today, David Bruce Smith's Grateful American™ Foundation released the newest video starring students, with the goal of having kids teach kids about American history.
"This video puts a spotlight on the life of Revolutionary Era painter Charles Willson Peale," says Smith, who founded the Foundation in 2013 and GratefulAmericanKids.com in July. "Fourth graders from the Richmond, VA, school Sabot at Stony Point acted out the script written by our team, and Richmond-based re-enactor Chris Dunn took the lead as Peale. The video was shot at the Virginia Museum of Fine Arts, which has several paintings by Peale and his son, Rembrandt, and Peale's teacher, Benjamin West. Our editors had fun making the video come to life."
Be sure to check out the new video at GratefulAmericanTV.com, then scroll down to take our History Challenge! 
Grateful American™ Foundation History Challenge: Take This Fun, Five-Question Quiz about Charles Willson Peale
Look for hints in the video that give clues to the answers!
1. What does "VMFA" stand for?
A) Vermont Military and Farming Association
B) Vegetarian Moms for Agriculture
C) Virginia Museum of Fine Arts
D) Victorian Models and Fashion Affiliation
The answer is C) the Virginia Museum of Fine Arts. Located in Richmond, VA, its purpose is to collect, preserve, exhibit, and interpret art, to encourage the study of the arts, and thus to enrich the lives of all. Learn more at vmfa.museum.
2. How many children did Charles Willson Peale have?
A) 10
B) 17
C) 2
D) 24
The answer is B) 17. Peale was married three times; he and his first wife, Rachel Brewer Peale (1744-90), had 11 children; seven of them survived childhood, although one son died at the age of 18. After Rachel's death Peale married Elizabeth De Peyster (1765-1804), with whom he had another seven children, five of whom lived to become adults. Peale's third wife, Hannah More (1755-1821), helped him raise his youngest offspring.
Six of Peale's sons were named for Renaissance and Baroque painters: Raphaelle (1774-1825), Rembrandt (1778-1860), Rubens (1784-1865), two sons named Titian (1780-98 and 1799-1885), and Vandyke Peale (1792-94). The first three became important painters in their own right, while Titian the second became an artist and naturalist. Three of Peale's daughters were named for important painters: Angelica Kauffman (1775-1853), Sophonisba Angusciola (1786-1859), and Rosalba Carriera (1788-90), who died in childhood. Two of Peale's sons were given scientific names: Benjamin Franklin Peale (1795-1870), called Franklin, was named for the artist's close friend; Charles Linnaeus Peale (1794-1832) was named for the famous Swedish botanist and zoologist.
3. Who was Charles Willson Peale's art teacher?
A) Benjamin West
B) Kanye West
C) Cornel West
D) Adam West
The answer is A) Benjamin West, who was one of the most famous painters of the time in London. Born Oct. 10, 1738 (he died on March 11, 1820) was best known for his historical scenes; he was the second president of the Royal Academy in London, serving from 1792 to 1805 and 1806 to 1820. He was offered a knighthood by the British Crown, but declined it, believing that he should instead be made a peer. West believed: "Art is the representation of human beauty, ideally perfect in design, graceful and noble in attitude." Learn more about West here.
4. Which academy did artists Anna Claypoole and Sarah Miriam get accepted to?
A) Hogwarts School of Wizardry and Witchcraft
B) Starfleet Academy
C) Xavier's School for Gifted Youngsters
D) Pennsylvania Academy of Fine Arts
The answer is D) the Pennsylvania Academy of Fine Arts. Founded in 1805, it is the first and oldest art museum and art school in the United States. Today, it is  known internationally  for its collections of 19th- and 20th-century American paintings, sculptures, and works on paper. Its archives house important materials for the study of American art history, museums, and art training. Learn more at academyart.edu.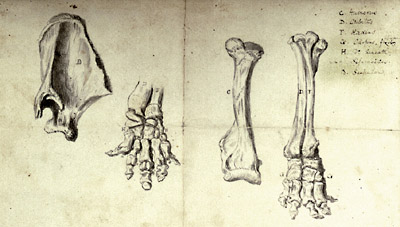 5. Charles Willson Peale helped discover and put together the remnant of which ancient animal?
A) Saber-Toothed Tiger
B) Mastodon Elephant
C) Tyrannosaurus Rex
D) Megalodon Shark
The answer is B) a Mastodon Elephant. Click here to learn more about this Fascinating Fact!
Thank you so much for taking the quiz about Revolutionary War Era painter Charles Willson Peale. Stay tuned for our next video. Who will it be about? Send us your requests at GratefulAmericanFoundation.com and GratefulAmericanKids.com.
Here's to getting excited about studying American history!